The Good News: It's 100% fixable.
The Bad News: I'm a freakin' mess.

Before I continue, I want to first point out that this blog is meant to illustrate my journey into optimum health, strength, and wellness, the majority of which includes CrossFit training and Paleo nutrition; however, with that being said, I also believe it's pertinent to include all outside experiences which aid in this achievement of strength, health, and overall awesomeness.

OK, what I'm about to share with you is very personal and scary for me. When I found out about this, I considered whether or not to publicly display it as it may make me vulnerable and, subsequently, uncomfortable (who knew?)—- but I feel that its important for an example to be made and that this sort of thing be known.
Now, without further ado… I would like to introduce the following: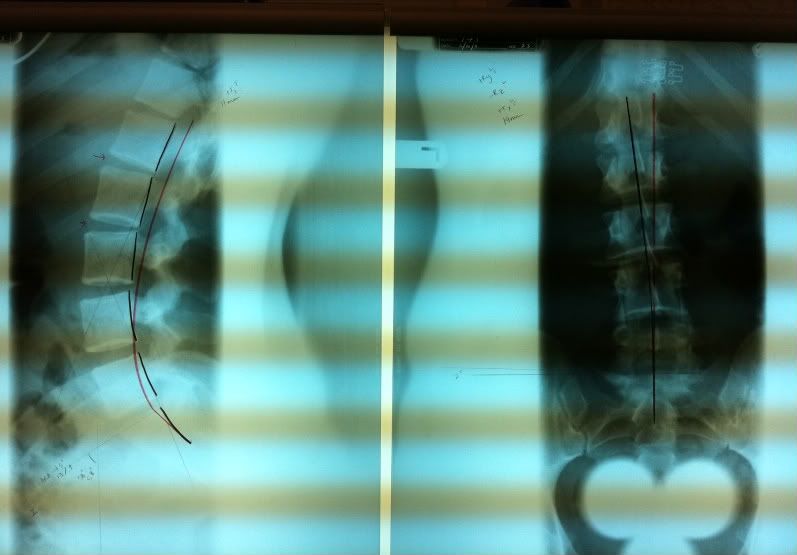 Looking above, the x-ray on the left shows a lower-back with increased curvature, and the right is a spine showing signs of scoliosis (as depicted by the red and black lines; black indicates whats actually happening, and red is where it should be).


Looking below, the x-ray on the left shows the side view of a neck bent too far forward (as illustrated by the red and black lines), with the space in between the cervical vertebrae ("neck bones") decreasing as it moves down (when it should stay the same). The X-ray to the right shows a neck shifted too far the right.

Unfortunately.. all of these X-rays belong to me.

This is scary for many reasons. Firstly, scoliosis can lead to a variety of negative health outcomes, such as spinal cord or nerve damage (HELLO!), low back arthritis, respiratory problems due to severe, uncorrected spinal curvature, and an overall poorer quality of life. Second, my neck is bent too far forward, meaning I have less space between my cervical vertebra, and thus more potential for nerve damage.
Not only that, but, as you can see, this misalignment is causing my atlas (i.e., the topmost vertebra, which, along with the Axis, forms the joint connecting the skull and spine) is actually projecting upwards, putting more pressure on, oh I don't know, my brain.

Can you believe I've gone my entire life without knowing any of this?— scary.

Thankfully, Caleb has been going to a chiropractor (Dr. Bianca Treski), and suggested that I finally take a peek. Sure, why not? My posture has always been crappy and my neck always hunched (although I thought this was normal and not so big of a deal, because, hey, I am a vision of health, right?).

…Right?!?

Anyway, I've had, now, my initial assessment (x-rays, symptom questionarre, medical history, etc) and second appointment, which involved going over the x-rays as well as an overview of the appropriate steps (an array of tractions and adjustments) needed to remedy my problems.

The good news?  I'm on my way to greatness because I've already had my first adjustment and tractions (holler!)! I've decided to "chronicle" each week's experience through discussion of changes in my posture, wellness etc., and will post my x-rays from "report appointments" to show if any physical improvements have taken place.

Still with me? Fabulous. Stay tuned!